Although the 2016 Golden Globes will most likely be remembered for highlighting some of the most exciting films and TV productions of the last decade, audiences were treated to some funny (albeit bleeped out) and very memorable moments. Here are some of them:
Ricky Gervais Calls Sean Penn a Snitch in His Opening Monologue
https://www.youtube.com/watch?v=YukkgLhmSso
Calling out to, arguably, the weekend's top news story (Sean Penn admits to having interviewed drug lord El Chapo while the latter was in hiding), Gervais calls Penn "a snitch" because of the criminal's recent imprisonment.
Rachel Bloom's Speech Upon Winning the Best Actress in a Comedy Award
Just as stunned about her win as we were, Bloom chronicles the many rejections Crazy Ex-Girlfriend had to endure before being made.
Amber Heard and Jaimie Alexander's Teleprompter Failure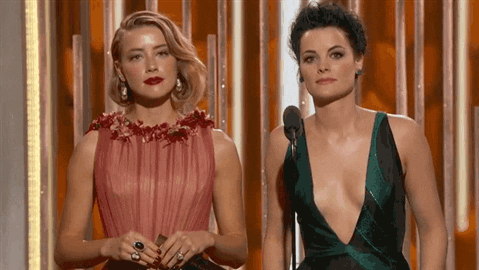 While presenting the award for Best Actor in a Limited Series or TV Movie, the two actresses burst out laughing upon a teleprompter malfunction.
Jamie Foxx Pulls a Steve Harvey
https://www.youtube.com/watch?v=ovpL2tyKbbk
Presenting the award for Best Score in a Motion Picture, Foxx announces Straight Outta Compton as the winner…but the film wasn't even nominated. "I'm sorry folks, I made a mistake. It's right here on the card, I take full responsibility," jokes the actor. "I apologize to everybody in Compton, I apologize to Ice Cube. I'm sorry." Well played, Foxx, well played.
Eva Longoria and America Ferrera Team Up With Ricky Gervais for a Double Latina Joke
https://www.youtube.com/watch?v=SHBijKSOI8U
"Eva Longoria and America Ferrera aren't just beautiful, talented actresses," said Gervais while introducing the actresses. "They're also two people who your future President, Donald Trump, can't wait to deport." The two proceed by poking fun at the public, who mistook both actresses for other Latina performers earlier this year (Longoria:"Hi, I'm Eva Longoria, not Eva Mendes." Ferrera: "And hi, I'm America Ferreira, not Tina Rodriguez.")
Amy Schumer and Jennifer Lawrence Remind Us They're Best Friends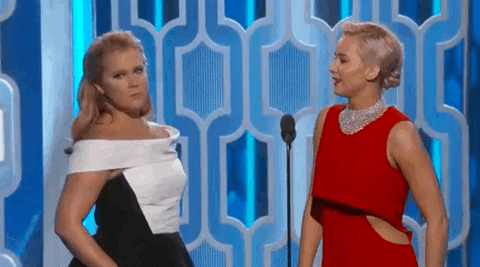 From their catwalk-like entrance to their jokes, the two actresses didn't disappoint.
Ryan Gosling and Brad Pitt Are Greeted by Well-Deserved Chants
https://www.youtube.com/watch?v=obGMPeLtmy0
While presenting their film, The Big Short, the two actors were accompanied by screams of "wow." We were part of those chants while at home.
Sylvester Stallone Gets a Standing Ovation Following His Win
Grabbing his first ever Golden Globe, for his Supporting Actor role on Creed, Stallone was greeted on stage by a well-deserved standing ovation.
Gervais Calls Out Mel Gibson's Past Behavior Before Introducing Him
"A few years ago, on this show, I made a joke about Mel Gibson getting a bit drunk and saying a few unsavory things. We've all done it. I wasn't judging him but now I find myself in the awkward position of having to introduce him again," Gervais said. Watch the video for the full joke…
Taraji P. Henson Gives Out Cookies After Winning 
Winning for her role on Empire, Henson acknowledged her character Cookie by giving out sweets while approaching the stage. Other memorable moment: the actress tells us she's been waiting 20 years for a win and refuses to cut her speech short once her time's up.
Leonardo DiCaprio Wins Our Hearts All Over Again
If there's one thing to remember about the 2016 Golden Globes, it's this.