Phenomenal duets, musically masked political statements, very obvious sound issues and all things Taylor Swift dominated this year's Grammy Awards. Although still sour about Rihanna's last-minute back out (she had bronchitis) and Lauryn Hill's cancellation (she was supposed to perform "In the Night" alongside The Weeknd), we mostly enjoyed last night's shenanigans. Below, the night's most memorable moments…for better or for worse.
Lady Gaga Pays Tribute to David Bowie
Renown for her all-immersive performances, Lady Gaga reminded us of her talent when honoring the late Bowie with a 6-minute act that only she could deliver. 
Stevie Wonder Teaches Us a Thing About Humanity
Wonder announced the winner for Song of the Year by reading off a Braille card. Before presenting the award, the singer made a claim about the importance of accessibility, and we loved it.
John Legend Proves (Once Again) That He Deserves His Last Name
Joining Demi Lovato, Luke Bryan, Meghan Trainor and Tyrese, Legend kicked off a tribute to Lionel Richie, this year's MusiCares Person of the Year, who eventually hopped on stage to sing "All Night Long." Notable mention: Lovato stunned everyone with her amazing rendition of "Hello." The girl can sing.
Adele Remains the Queen of Music
There was something off with Adele's performance last night…and the Internet noticed. Needless to say, the musical genius kept the show going and performed to the best of her abilities, eventually letting us know what happened via Twitter.  
Taylor Swift Stole the Show Before the Show Even Started
Swift was already on everybody's mind when she (weakly) opened the show with "Out of the Woods," wearing a very sparkling catsuit of sorts and a new haircut reminiscent of Anna Wintour. Swift's name dominated Twitter when she excitedly rejoiced at pal Ed Sheeran's win for Song of the Year and supposedly called out West when winning Album of the Year herself. And, in case you missed her handshake with Jack Antonoff (Lena Dunham's boyfriend and lead guitarist in the band Fun.), who co-produced her album 1989, here you go.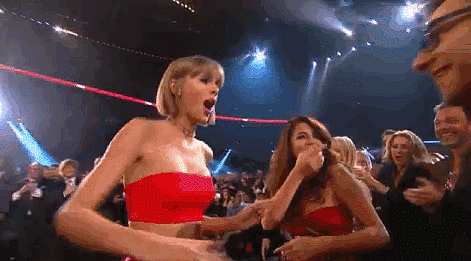 Andra Day and Ellie Goulding Redefine #GirlPower
Certainly one of the night's most exciting acts, the singers performed their respective hits, "Rise Up" and "Love Me Like You Do." 
James Bay Finally Presents Himself to the World
Already a sensation in Europe, Bay was up for Best New Artist (spoiler alert: he lost to Meghan Trainor) and joined Tori Kelly on stage for a mashup of their respective hits, "Let it Go" and "Hollow." Have you downloaded his album yet? The Hamilton Cast Has America Rushing to Broadway
Already making history as one of the most successful Broadway shows ever, Hamilton made history again last night by performing its opening number live, from New York's Richard Rodgers Theatre, winning the Best Musical Theater Album award, and delivering an awesome, rap-infused speech after winning.  Kendrick Lamar Makes a Political Statement
One of last night's most talked about acts, Kendrick Lamar dressed up as an inmate and delivered a politically charged performance of his hits "The Blacker The Berry" and "Alright." Lamar won five Grammys last night, including Best Rap Album. 
Sofia Vergara Dressed Up as a Taxi
This was so weird. Not to mention, the whole performance was horrible.