Whether you're cooking a family dinner or hosting friends for lunch, take a few tips from the pros to make mealtimes easier and more enjoyable. These chefs in Australia know a thing or two about running a busy kitchen—from storage and prep to cooking and presenting the meal.
Related Content
9 Fresh Herbs to Keep Handy for Thanksgiving Dinner
Taking Inventory Has Never Been Easier
Streamline Dish Duty With a New Sink
Plan Ahead
Just as restaurants have daily menus, a home chef can also reap benefits from having a weekly meal plan. A little time spent on planning each week can help save money on groceries and keep stress levels to a minimum.
After taking stock of what's in the refrigerator and writing a shopping list, focus on timing and food prep for a smooth week in the kitchen. Merivale executive chef Christopher Hogarth said the right food storage containers are the key to quick and easy planning. He recommended buying stackable and transparent containers to see what's inside.
If you're having people over, said Patrick Friesen, executive chef at Sydney's Queen Victoria Hotel and Papi Chulo, do as much prep as you can and plan your menu, that way you don't have to do too much last-minute cooking.
"I like to prep everything the day before or the day of and put it all in containers," he said. "I store it in the dishes I'm going to use, so everything is easy to put together when my guests arrive."
Tip: For open shelving, glass canisters look better on display than plastic containers. They can even be color-coordinated according to their contents. Use masking tape and a felt-tip marker to label spices, flour, cereal and other everyday items you want within arm's reach.
Don't Try to Do Too Much
Dinner parties might not be the best time to try that adventurous new recipe. Rodney Dunn, chef and co-founder of farm-based cooking school The Agrarian Kitchen, suggested nailing something easy rather than trying to dazzle. "The best advice I can give any home cook when they are cooking for something special is to make sure the recipe is tried and true," he said. "This is not the time to be experimenting."
Take a look through your favorite recipe book and choose something that suits the occasion, then add a side dish or two to introduce color and variety. "You want to spend time with your guests drinking delicious cocktails and wine, not fretting over your dinner," Friesen said.
Having a celebratory dinner for your extended family? Begin simply. A cheese platter is always a winner; serve a selection of cheeses with grapes or dried fruits and crackers.
Jordan Toft, executive chef at Coogee Pavilion, said the trick is to concentrate on one course and let the rest play second fiddle. "Focus on one main dish and its preparation, followed by some sides to complement," he said. Don't add stress by trying to serve a three-course dinner. "If dessert is in order, make it a shared item that can be mostly pre-prepared," Toft said. "It should be comforting rather than fussy and intricate."
Clean as You Go
Cleaning up your prep and cooking areas as you go is one practice that can benefit every home cook. "I live by it!" chef and food blogger Sarah Glover said. Keeping your workspace tidy shouldn't be difficult if pots, pans and chopping boards are quickly washed and put away as soon as you're finished with them. Also, keep a dishcloth on hand to wipe the counter down. You'll have less to do at the end and can focus on enjoying the food and company.
Hogarth recommended having paper towels within reach at all times for sticky hands. He also suggested making use of reusable cloths such as Handi Wipes. "To keep prepped items fresh, just make it damp, cut to fit and place over your washed salad leaves," he said.
Keep the Fridge Organized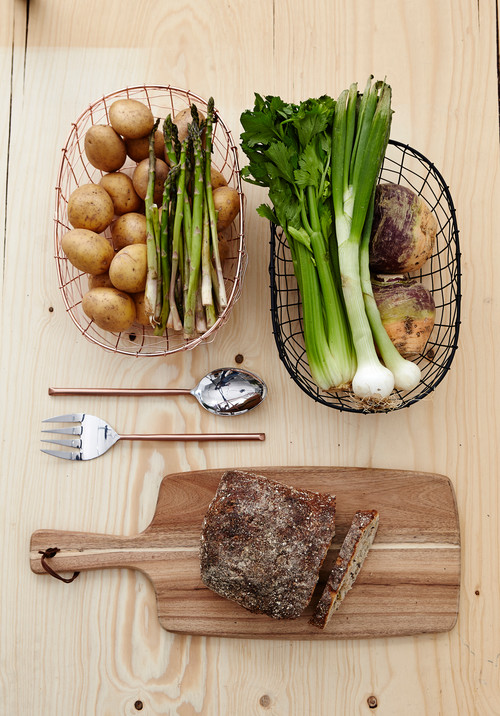 A well-run kitchen starts with a clean and tidy fridge. "Use putting your groceries away as a time to reorganize your fridge," Toft said. "Put new items behind older items, check on your vegetables and clear out or use up any leftovers." Be sure to place items in their optimal storage spot. Keep milk in the coldest area; raw meat at the bottom in case it drips; and butter, soft cheeses and nut oils in the door, which is the warmest part of the fridge.
Toft offered his top cleaning tip to eliminate those pesky smells in the fridge and make sure the shelves are ready to be freshly packed: "Use any vegetables near their end for a warming vegetable soup and give your shelves a wipe," he suggested. Bread can be sliced and frozen so there's no pressure to finish an entire loaf before it goes moldy. Simply keep out what you'll need for a few days and put the rest in the freezer.
Tip: If mealtimes start to feel routine, there are plenty of ways to get out of a rut that don't involve spending hours preparing extravagant dishes. To make cooking fun and less of a chore, try getting creative with the atmosphere.
"I always pick music that is upbeat and makes people relaxed and happy," Glover said, adding that a hand-printed tablecloth or flowers from the garden can be good conversation starters.
Think Seasonally
Save money and celebrate nature's bounty by doing as the chefs do: Live in sync with the seasons by using fresh, local produce. Most fruits and vegetables reach their nutritional peak around the time they should be harvested, which is also when they're at their tastiest. And shopping for what's in season will save you money at the register.
"Always be seasonal both with your food and atmosphere," Glover said. She suggested thinking beyond ingredients by embracing the best of what each season has to offer—for example, celebrating winter with pumpkin soup and candlelight, while on warmer days dining al fresco with a zesty asparagus salad.