Since having a built-in bar at home isn't always practical or affordable, a bar cart is a great alternative for entertaining friends and family for not too much space or dough. While parking your bar cart in a living room or den is a popular and perfectly fine option, there's no need to limit yourself. Here are 10 other spots to consider when playing bartender at your New Year's Eve party and beyond.
Related Content
Raise Your Glass to 15 Home Bars
Browse Bar Carts in Every Style
Match Your Cart to a New Desk
Entryway welcome. Depending on how rough your day's been, a bar cart might be the first thing you'd like to see when you walk through the front door. Consider placing a mirror above it, to open up the space and for last-minute primping.
Small wall filler. If you're having a hard time finding the right spot for your bar cart, search your walls and look for the smallest one. Chances are it's already in need of a little extra love and attention.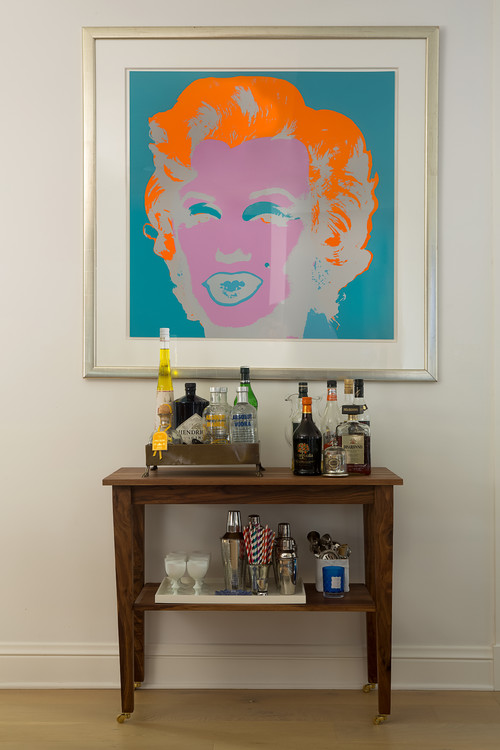 Below-art standout. After hanging your favorite piece of art, it can be difficult to decorate the space below it. Seating encourages people to face away from the art, while a bar cart allows them to study the piece while contemplating their next cocktail.
Stylish corner. Decorating the corner of a room is notoriously difficult. A potted plant or an old chair that no one ever sits in are common choices, but a bar cart can add instant interest. This gilded beauty against a wallpapered accent wall creates a captivating vignette.
Tucked under the stairs. The empty space under a staircase is a gold mine for creative design. An office or powder room may be conventional uses for this oft-overlooked space, but a bar cart and stylish armchair take this cozy nook to the next level.
Dining area delight. A bar cart in a dining area can perform double duty. It provides an extra surface for side dishes during dinner and then for a selection of aperitifs during dessert.
Kitchen knockout. Let's face it, as much as we try to make other rooms in our house alluring, when friends and family gather, it's often in the kitchen. A bar cart makes perfect sense there, not only for hosting guests but for storing the cooking sherry to boot.
Office party. Having a bar in your office has a distinct Mad Men feel to it, but you don't need a swinging mid-century pad to pull it off. A classic bar cart in the corner can be a good way to unwind after a stressful day pushing paper.
Take it outside. When warmer weather returns, there is no more enjoyable spot to roll out your bar cart than a patio or porch. Feel the warm breezes wash over you with a cool daiquiri in hand.
Built-in bar butler. Having a built-in bar is a luxury, but during a busy house party the line there can get pretty backed up. Having a cart on hand allows you to spread the cheer throughout the room.