Chocolate and liquors have been a classic combination for centuries. Share both with your Valentine this year by making your own chocolate syrup and using it in a Boozy Bourbon Hot Cocoa to enjoy next to a cozy fire. And while you're at it, why not set up a bar cart so you can experiment with other combinations after Valentine's Day is over?
Related Content:
Find Ideas for Your Own Cocktail Party With These Beautiful Home Bars
Keep Cocktail Supplies Nearby With a Chic Bar Cart
TV Trays Also Make Great Beverage Stations
Choosing a bar cart. Don't be afraid to try something different for your bar cart. A repurposed piece can be striking. Mine started out as a dowdy gray industrial office piece inherited from a roommate. With a good cleaning and some sage green paint, it has found new life in the home I share with my fiancé. We added a second shelf by tucking in a midcentury piece we had been using as a plant stand. This pairing works beautifully to display our stemware and store our sodas.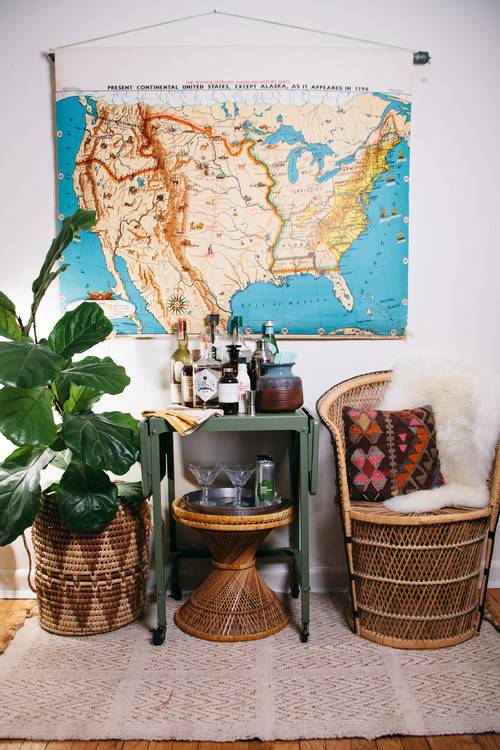 Stocking your bar cart. Even if you don't have room for a full bar or cart, keep a selection of liquors on hand for entertaining. I'm a fan of bourbon, but I know not all my guests will share my enthusiasm. So we stock gin, rum and scotch as well. My fiancé and I invest in higher-end bottles of our favorite spirits, but for everything else, we buy midpriced varieties.
Specialty liquors can be a game changer for any home bar. Once you've settled on your favorite traditional spirits, play flavor matchmaker by experimenting with other ingredients. Keeping a few tasty mixers ready to go—such as soda, ginger beer, juice, bitters or syrup—can save you when you don't have time to prepare every ingredient of a craft cocktail on the spot.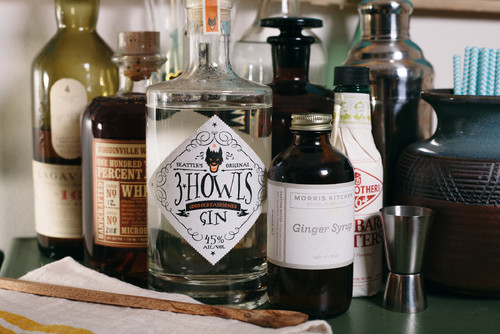 Start mixing. Crafting cocktails with complementary flavors takes your drinks to the next level. It can be fun to figure out the best pairings. You can start with simple syrup infusions. We've tried ingredients from the delicate, floral end of the spectrum, like lavender, to the robust earthiness of Douglas fir tips. Each has brought its own delightful subtleties to our cocktails.
As the founder of Badminton Chocolate, I love using chocolate as an ingredient. Here's a winter cocktail that combines homemade chocolate syrup with bourbon whiskey. You start by making the syrup, then add cream, a half-ounce of bourbon and milk. (Going a little light on the amount of bourbon creates a nice balance of flavors.) Top with more whipped cream and marshmallows, and you're set to indulge.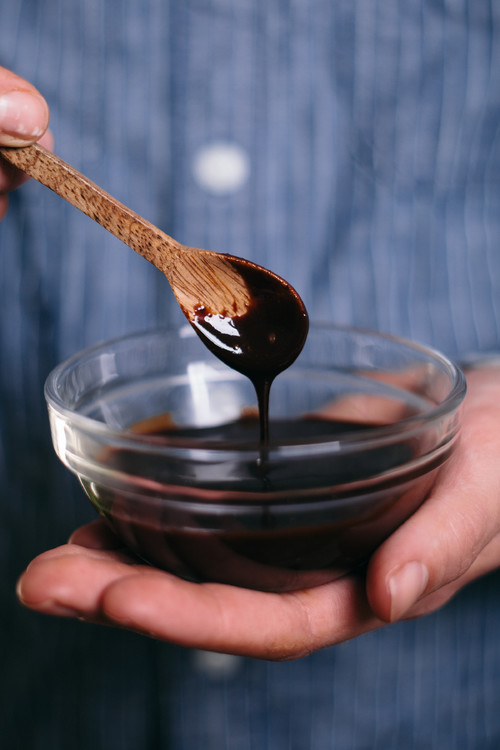 Chocolate Syrup 
Ingredients:
1½ cups water
1½ cups local honey
¾ cup organic raw cacao powder
1 teaspoon pure Madagascar vanilla extract
⅛ teaspoon cardamom powder
Dash of sea salt
1. Bring the water to a boil. Add the honey, lower the heat to medium-high and stir constantly until the honey has dissolved. Be careful that the honey doesn't stick to the bottom of the pan and burn.
2. Further lower the temperature to medium-low and add the raw cacao powder while whisking the mixture. Whisk constantly at a low boil for 5 to 6 minutes, smoothing out all the lumps and making sure the mixture doesn't boil over. The longer the cooking time, the thicker the syrup will be.
3. Remove from heat and store in an airtight container for up to a month.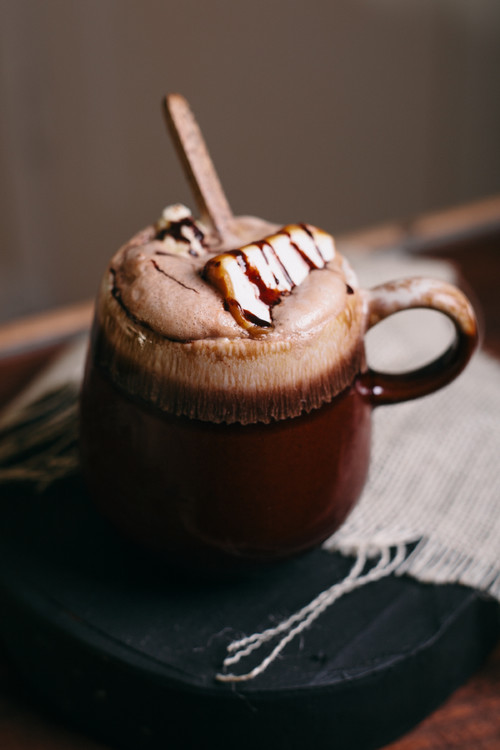 Boozy Bourbon Hot Cocoa 
Ingredients:
5 tablespoons Chocolate Syrup (recipe above)
4 heaping tablespoons whipped cream
¾ cup milk of your choice (our favorite is almond)
½ ounce bourbon whiskey or to taste
Marshmallows
1. Bring the milk to a low boil, then set it aside.
2. Drop the chocolate syrup into your mug, then follow with whipped cream and mix thoroughly.
3. Stir in the bourbon until it is well incorporated and the mixture is smooth.
4. Pour in the warm milk and stir until it is at the consistency you desire.
Top with a dollop of whipped cream and marshmallows to your liking. Enjoy!