The potluck dinner has gotten a bit of a bad rap (think paper plates, bean dip and 10 trays of cookies but no main dish). But the concept behind the casual gathering where everyone brings food to share—distributing the work so all can play—is certainly worth reviving. Since I adore entertaining, friends often end up in my home, which is great. Still, being frequently the host and rarely the guest can get tiring, not to mention expensive. Instead of cutting back on the fun, I've begun assigning small tasks to my dear guests so pulling together a fantastic party becomes a group effort that's easy to achieve.
Related Content:
Choose a loose theme. It could be anything from a proper afternoon tea to taco night—just having a theme helps ensure that everything goes together. When sending out your invitation (a simple email works in most cases these days), provide ideas for each part of the meal, and ask guests to respond with what they plan to bring to avoid overlaps.
Invite your nearest and dearest to help set up. Why go it alone? Find out if a few close friends can arrive a bit early and pitch in to get the party started. Then delegate tasks that are useful and enjoyable, like picking fresh lettuce or snipping flowers from the garden, or stringing up twinkle lights.
Get help with more than food and drink. Although food is at the heart of any gathering, other elements can be just as important. On the invitation, ask people to sign up for anything else that would make the party complete, such as:
Fresh flowers
Table decor (place cards, candles)
Extra dishes or glassware
Spare chairs
Music
Cozy blankets for an outdoor fete
Make the food ahead or make it together. It's the golden rule of the new potluck. You shouldn't have to work solo in the kitchen during the party. Either pick something easy to prepare early—like a soup, stew or dish that just needs to be popped in the oven—or involve guests in a hands-on cooking experience. Getting them in the kitchen is a great way to break the ice, and it can be a fun way to try something new: tamales, dumplings, fresh pasta, pizza, bruschetta or, for dessert, chocolate-dipped fruit.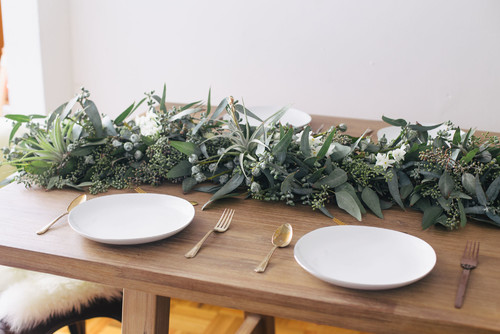 Enlist guests in crafting the decor. Their involvement doesn't have to be related to food: A collaborative craft that doubles as a decoration and a party activity is a win-win. You could make a garland for the table, asking each guest to bring a bundle of greens to add to the arrangement. The one shown above uses seeded eucalyptus, but any seasonal greenery that's widely available in your area would work. Or whip up some pompoms using yarn—a great stash-busting activity if you or your friends knit.
Nominate a bartender for the evening. The person doesn't have to pour (and the beverage needn't be alcoholic), but asking one guest to be responsible for topping off the ice bucket and wrangling glassware will make the party run more smoothly. Of course, if you're serving cocktails, it makes sense to put a friend with a gift for mixology in charge of coming up with a signature drink that dovetails with your theme—prickly pear margaritas on taco night, for example, or bourbon-laced hot cocoa for a cozy winter gathering.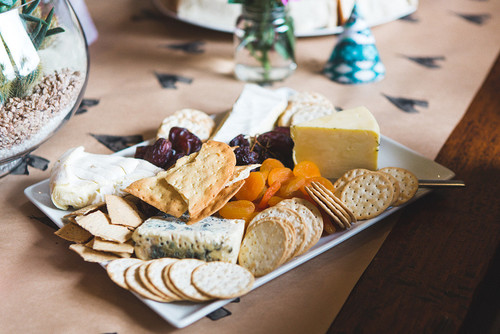 Remember that simple can be best. If all this talk of garlands and pompoms sounds too fussy, don't include these activities. The point of a collaborative potluck is to have fun, and to reduce the work and cost typically associated with hosting a traditional party. You may be more comfortable sticking with a simple menu, skipping the crafts and picking up a few quality items from the local deli or bakery to round out the meal. If having an activity appeals to you but you're worried that it'll be too much trouble, include a sign-up line on the invitation for what you would love to see (for example, "craft project" or "signature cocktail") and let a motivated friend take the reins.
Spiff up, but don't go overboard. Making an effort to clear the piles of papers from the table, vacuum up the dust bunnies and check that there's TP in the bathroom is always appreciated. But if an aversion to intense cleaning has been keeping you from inviting friends over, cut yourself some slack. They're coming to see you, not to ogle your shiny floors. In fact, seeing your home in all its imperfect glory may be just the confidence booster a friend needs to play host the next time around.