For a fresh and personal way to decorate your spring table for brunch or any day, combine special pieces from your china cabinet with a beautifully casual mix of fresh flowers and bright green foliage. Get the how-to from New York floral designer Dana Worlock.
For this setting Worlock stuck with a green color scheme with a hint of pink. The greens include plumosus, hellebores, peonies, dogwood and, for just a little edge, tins filled with grass.
Related Content
Tools and materials:
Clear floral tape
Scissors
Sharp cutting knife
Permanent marker
Tins
Flowers and foliage:
Peonies
Ranunculus
Paperwhites
Plumosus
Hellebores
Dogwood
Flat of grass
Look through your dishes to see what pieces you can use. We opted for a variety of milk glass vases and a cream and sugar set from Ole Carousel Antiques in Stanfordville, New York.
1. Start with your largest bouquet
Starting with the largest vase and peony flowers and buds, hold the flowers upright on the table next to the vase to measure out the desired height. To keep the peonies fresh while you work, cut the stems at a sharp angle and place them in cold water.
Add additional peonies to fill out the arrangement. Include stems with buds not yet open for a natural, asymmetrical arrangement. Turn the vase as you go to make sure each side looks good. Fill gaps with paperwhites.
2. Create a simple bud vase arrangement
In a bud vase, start with a long piece of plumosus, allowing its branches to drape over the vase. Add a simple stalk of hellebores next. To help keep the hellebores fresh longer, cut the stems at a sharp angle and place them in hot water before adding to the arrangement.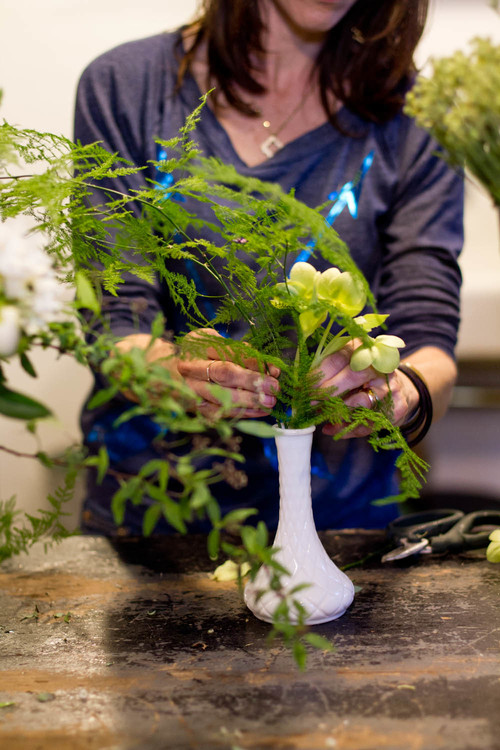 3. Fill a sugar cup with dogwood and ranunculus
Use strips of clear floral tape across the top of smaller vessels to hold the flowers in place. Starting with more plumosus as the base, place each piece in the vase around the tape. Next add twigs of dogwood for more height and texture.
Finish the arrangement with green and pink ranunculus, stems trimmed so that only the blooms are visible. Fill the empty spaces with more dogwood.
4. Fill a creamer with plumosus and hellebores
Start again with a base of plumosus. Add snippets of the green hellebores. The wildness of this arrangement adds great contrast to the display.
"I usually don't have a set way of arranging," Worlock says. "I like to be inspired by the look of each vessel and play around with flowers, texture and shape to get something that is unique and beautiful."
5. Add spring grass to rustic tins
For a fresh accent piece, Worlock used a flat of grass and metal tins from Terrain in Westport, Connecticut. Grass like this can be found at your local florist.
Flip the sheet of grass over, root side up. Use a permanent marker to trace around the tin to get the correct size. With a sharp knife, cut along the line you drew to separate the piece from the flat of grass. Cut straight through the roots and soil.
Carefully place the piece of grass into the tin, using the knife to help it into place. Water the grass daily to keep it fresh longer.
6. Arrange your centerpiece
Now you're ready to place the arrangements on the table. Put the tallest arrangements in the middle and the shorter ones on the ends. Have fun adjusting each arrangement, checking for balance from all angles. Allow the plumosus in each arrangement to intertwine with the one next to it. Stagger the tins of grass throughout, as you would with a garland.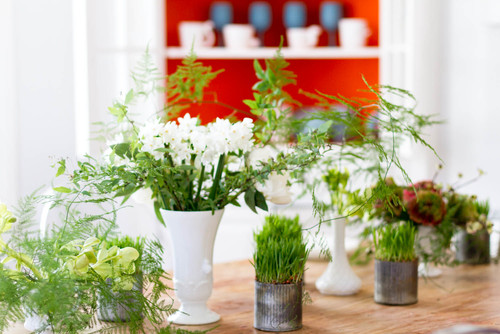 7. Set the table
Use dishes you have on hand that go with your color scheme. Worlock used vintage white plates with a gold rim from Cottage Antiques in Westchester, New York; stemware she purchased at an estate sale; and white mugs that were a gift from her sister. Flatware passed down from grandparents and number napkins from Wisteria complete the setting.
Tip: You can temporarily anchor the ends of the tables with extra grass tins, then whisk them away when it's time to sit down.
Add any extras you like. A green toy tractor and white votive candleholders add a unique touch. Change the water and trim the ends of the flowers daily to keep them lasting longer.
Your turn: Will you be hosting a brunch this spring? Please share a photo of your tablescape below.