Its freshening, lightening effects are welcome year-round, but white really comes into its own in summer. From white curtains billowing in the breeze to white planked walls, white floors and collections all in white, this decorator favorite is a great way to channel summer all around the house. Here are 11 ways to get started.
Related Content
Love Vintage Furniture? You Might Like Shabby Chic Decor
What Is Shiplap Paneling?
Brighten the Bath With White Bathroom Accessories
Paint a bunch of little mirror frames white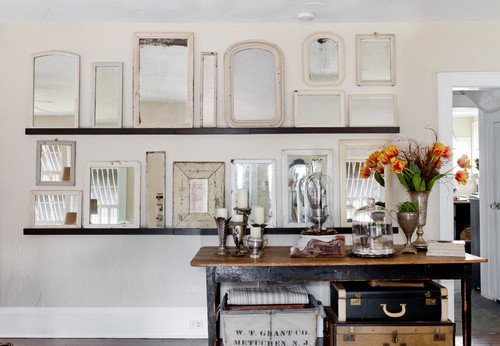 If you are in the habit of browsing yard sales and flea markets during the spring and summer, keep an eye out for small mirrors in interesting shapes. As you collect them, paint their frames white and add them to an assemblage on picture shelves. Using picture shelves rather than mounting the mirrors directly to the wall will make it easier to rearrange mirrors as you get new ones.
Make over your living room with white paint and slipcovers
Try painting just the base and legs of a wooden coffee table, or spray paint a woven light fixture white to lighten up your room. Accessories like vases, baskets and trunks can be painted white, and simple white slipcovers for sofas and armchairs can be bleached periodically to keep their crisp look.
Drape your bed in gauzy white fabric
A billowing white canopy at the head of the bed adds a romantic touch. Hang a length of sheer, gauzy white fabric from a curtain rod, a large embroidery hoop or a frame designed for mosquito netting. Don't worry if you don't feel like hemming it—the raw edges will work well here.
Collect seashells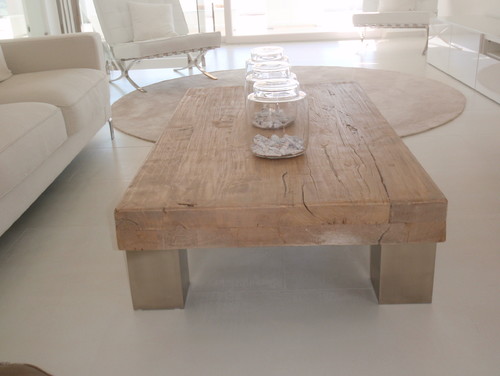 Instead of strewing them across a table, try collecting shells in a row of hefty glass jars lined up at the center of the coffee table.
Paint the floors white
If you want to try white floors but are not crazy about the upkeep, test the idea out first in a room that gets little foot traffic, like an attic bedroom.
Make over a plain mirror frame with white shells
Collect or buy a whole bunch of seashells and start gluing—it really is that easy! There are more permanent fixatives, but a regular hot-glue gun is fast and will allow you to remove the shells later if you want your old mirror back. (Even hot glue can leave marks on certain surfaces, though; test yours first to see how it responds.)
Add white painted planking to walls
Adding planking is not a quick or cheap project, but it can make a big difference in the way a home looks and feels. Choose wide, horizontal planks for that seaside cottage look.
Create a crisp backdrop for clean nautical style
White walls, ceilings and trim make crisp stripes, woven furniture and natural-fiber rugs look even better. And using white on all of the walls throughout an open-concept home is a foolproof way to make the space feel more expansive.
Showcase a white collection
Collecting items in a specific color will take your collection to the next level—and white is probably the easiest possible color, because nearly everything comes in white. Try collecting white vases, creamers, quilts or vintage suitcases.
Paint an interior brick wall white
A redbrick interior wall is one thing in an urban loft; in a little cottage, it can stick out like a sore thumb. Give yourself permission to cover up the brick that's been bugging you with a fresh coat of white paint—you'll probably wonder why you didn't do it sooner.
Hang white curtains
It's so simple—if you haven't tried white curtains yet, perhaps it's time to become a convert. Thin white curtains look amazing riffling in a slight breeze and work well layered with nearly any other window treatment. Try pairing them with bamboo shades for an especially summery combo.
Tell us: How do you decorate with white?