Whether your home sits on the beach or at the top of a city skyscraper, a beautifully shaped piece of coral can fit into any room. While we might traditionally think of them for beach houses or summer weather, these little bits of nature make great accessories for the landlocked as well. Keep it simple with a small piece or incorporate a coral light fixture or shelf into your decor—whichever route you choose, coral's organic shape is a chic addition to any design scheme.
Related Content
Add Coral to the Base of Your Floor Lamp
Unique Wall Shelves for Coral Decor
Use These Mirrors to Reflect Intricate Designs

A piece of real or faux coral with a striking silhouette can become a versatile accessory. While the natural colors are gorgeous, painting a piece to coordinate with the room is a great option. Gold and silver are our favorites for adding drama; basic white can tone down a glamorous scheme.
A larger piece of coral can really hold its own on a case piece. If you want coral that stands proudly, search for a piece with a flat bottom. An acrylic base, a little super-strong glue and you're good to go!
Depending on its proximity to waves and the shore, coral can take on all kinds of fascinating shapes. Branched coral like this (above) usually grows in calmer, deeper waters. Placed on a mirror, it becomes a reflective focal point.
A single piece of coral makes a simple, crisp topper for a stack of books.
Red coral, seen in this bookcase (below), is perhaps the most valuable type. Besides looking pretty, it is said to relieve melancholy and excessive worry. Put a piece beside your bed for sweet dreams.
A coral chandelier makes a beautiful, out-of-the-ordinary focal point in any room.
Faux coral is easy to find and makes a great alternative to the real thing for accessorizing.
For a room that could use a touch of sea life, consider a coral lamp like this one.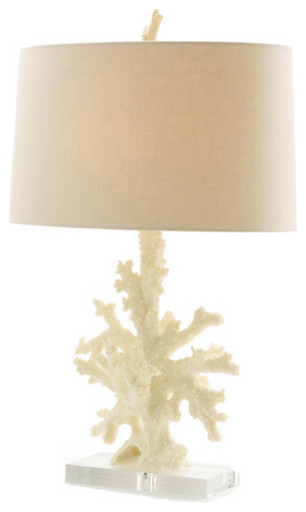 These unique wall shelves would be perfect lining a hallway or as a spin on a piece of art over a sofa.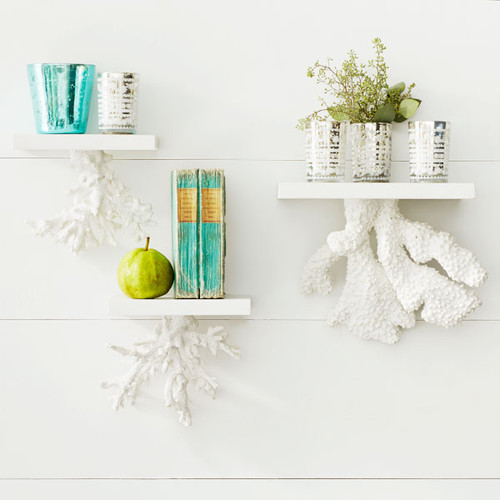 Tell us below if you have any coral in your home.